Aquila
2021-2022
---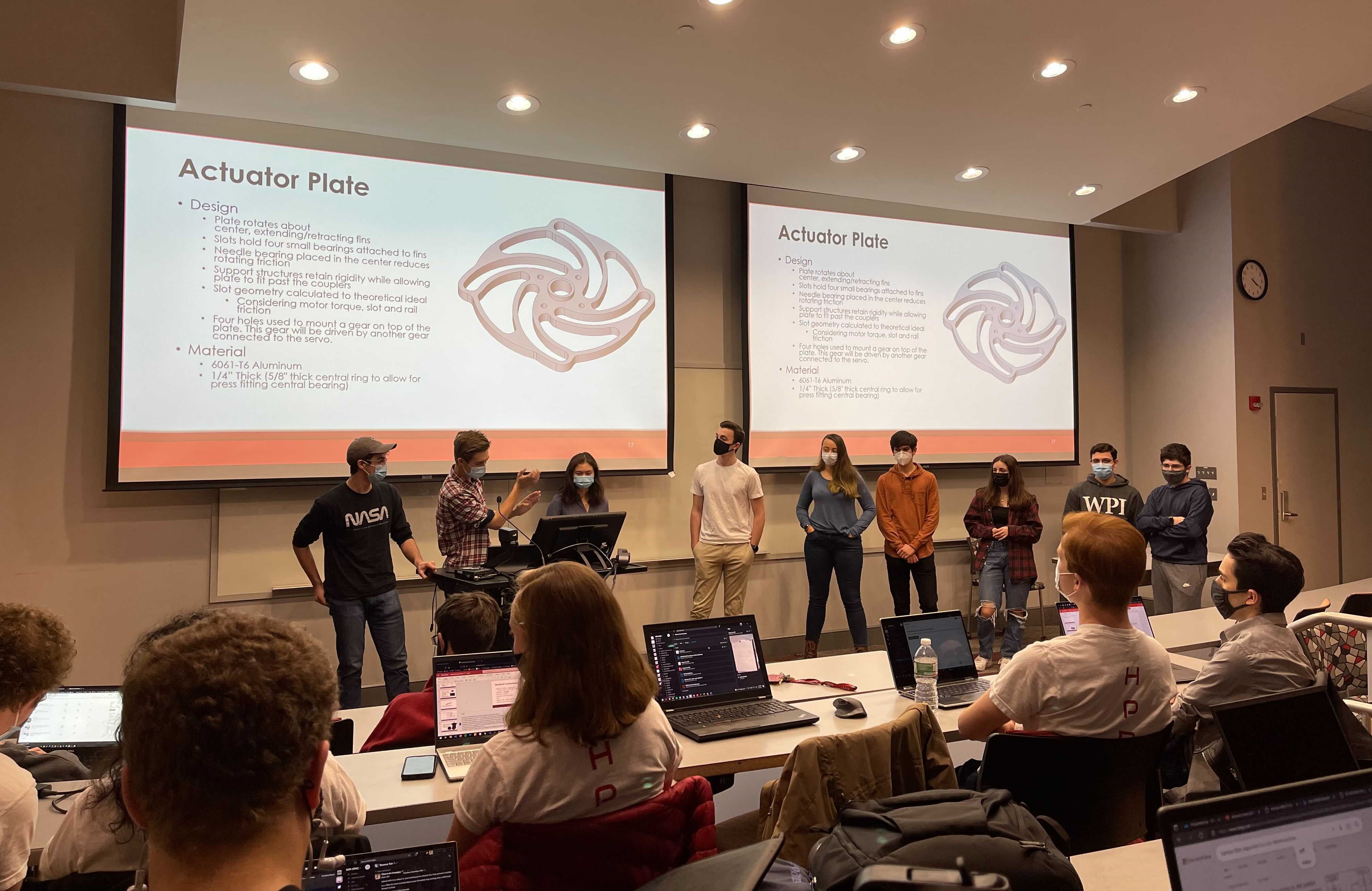 Members of the airbrakes subteam present their design during the internal design review.
Now in the team's fourth year, WPI HPRC looks to reach new heights, literally and figuratively. The team has been accepted to compete in the Intercollegiate Rocketry Engineering Competition (IREC) in the 10,000 ft COTS category, having launched rockets to 5,000 feet in previous years. Through increased promotion in the WPI community, HPRC has grown to about 110 members and is well-prepared to take on the challenge of creating a more powerful rocket. This year's project is named Aquila, after a constellation that contains the stars Altair and Tarazed and means eagle in Latin.
The rocket, Altair, will measure 125 inches long with a diameter of 6 inches and feature redesigned couplers and airbrakes. The new couplers hold together parts of the airframe that do not separate in flight by using a screw-together technique meant to provide proper stiffness and support. The predicted apogee of the rocket is 10,000 ft using the airbrake system.
The payload, Tarazed, features a quadcopter designed to locate the rocket after the rocket lands by triangulating a signal broadcast by the rocket. It will verify the correct location using GPS data and subsequently relay its position back to the ground crew. The payload mechanical subteam is drawing upon knowledge and experience gained in 2019 when the team built a quadcopter for the USLI Payload Challenge. The software for this year's payload is more complex as the waypoints, or target locations for the quadcopter to fly to, must be updated during flight.
The avionics board features a stacked, modular design for efficient development and easy replacement of electronic components. Additionally, the software team is developing a detailed ground station to store and display data transmitted from the rocket and payload during the mission.
Officer Board
---
Kevin Schultz
Captain
Troy Otter
Rocket Lead
Jake Roller
Payload Lead
Paul Coccomo
Safety Officer
Giovanni Giacalone
Treasurer
Bridget Wirtz
Logistics Officer
Julia Sheats
Sponsorship Officer
Christian M. Schrader
Documentation Officer
Kirsten Bowers
Engagement Officer
Abby Hyde
Public Relations Officer