Aquila
2021-2022
---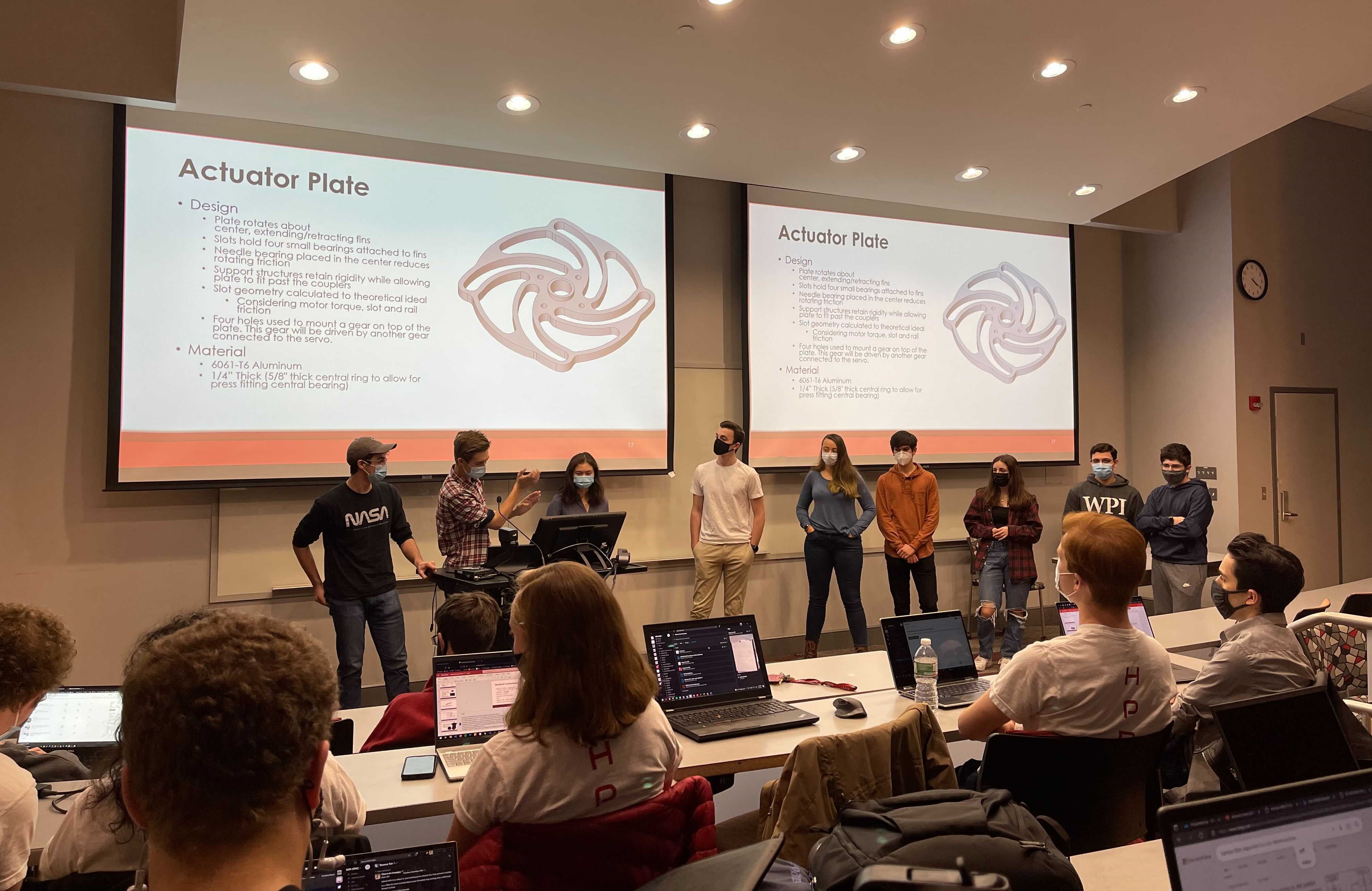 Members of the airbrakes subteam present their design during the internal design review.
Now in the team's fourth year, WPI HPRC looked to reach new heights, literally and figuratively by competing in the Intercollegiate Rocket Engineering Competition (IREC) in the 10,000 ft COTS category. The team grew to around 110 members, and was prepared to take on the challenge of creating a more powerful rocket. The project was named Aquila, after a constellation that contains the starts Altair and Tarazed. Altair means eagle in Latin.
The rocket, Altair, measured 134 inches long with a diameter of 6 inches and featured redesigned couplings and airbrakes. The new couplings hold together parts of the airframe that do not separate in flight by using a screw-together mechanisim meant to provide proper stiffness and support. The airbrake system was used to target an apogee of 10,000 feet.
The payload, Tarazed, was a quadcopter designed to locate the rocket after the rocket lands by triangulating a signal broadcast by the rocket. It was designed verify the correct location using GPS data and subsequently relay its position back to the ground crew.
The team successfully made it to launch week in first year at IREC, a feat not accomplished by every team. After passing safety inspection Altair and Tarazed launched on the second day of launches, however the vehicle broke apart at burnout due to an incorrectly programmed altimeter. Despite the failure, the team gained significant experience from launch week, and from the failure analysis process. Within the 10k COTS category, WPI HPRC placed 3rd in technical report quality, and 11th in design quality. Additionally, the team received the Sportsmanship Award.
Officer Board
---
Kevin Schultz
Captain
Troy Otter
Rocket Lead
Jake Roller
Payload Lead
Paul Coccomo
Safety Officer
Giovanni Giacalone
Treasurer
Bridget Wirtz
Logistics Officer
Julia Sheats
Sponsorship Officer
Christian M. Schrader
Documentation Officer
Kirsten Bowers
Engagement Officer
Abby Hyde
Public Relations Officer