Project Goddard
2019-2020
---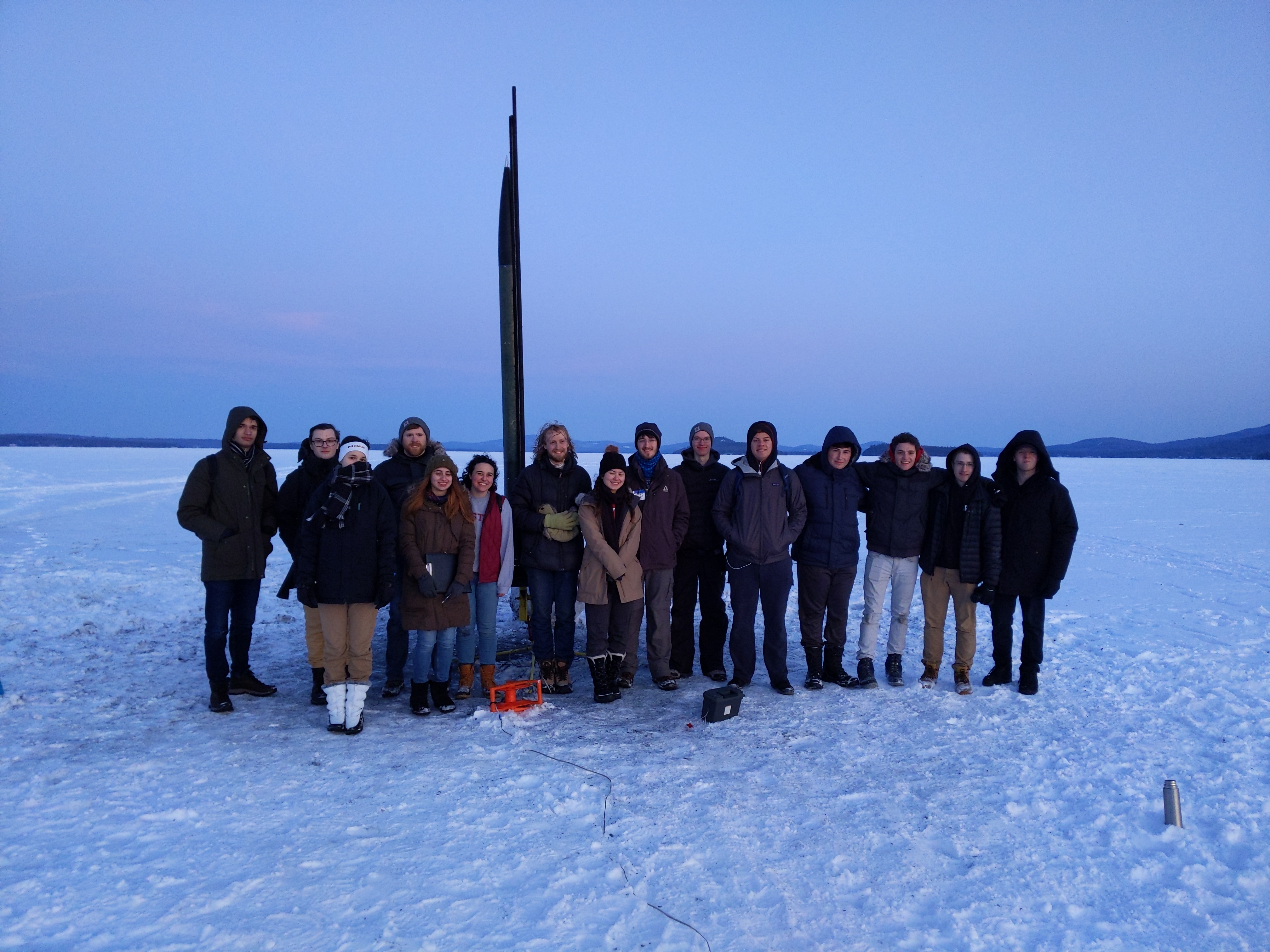 The team takes a group photo right before Phoenix takes flight over Lake Winnipesaukee.
Beginning the second year of the team, WPI USLI (HPRC's former team name) now had some experience. With a better understanding of the competition, team organization was overhauled bringing new officer positions, more streamlined report writing, and an even larger team. This year's project was designated Project Goddard, named after Robert Goddard, the father of modern rocketry and one of WPI's most famed alumni.
The team's second launch vehicle, named Phoenix, measured 111 in long and was built out of 6 inch Blue Tube 2.0. Flying on an L1050 solid rocket motor, it was projected to reach an apogee of 4088 ft. The vehicle embodied the many lessons learned in the team's first year. Gone was last year's heavy fin can, replaced with a light weight and 3D printed bracket set that held in place a set of four custom made foam core carbon-fiber fins. Last year's electronics bay, which took more than an hour of prep time at the launch site, was redone with a twist lock mechanism that could be assembled in minutes. These and many other changes put the team's new knowledge to good use.
The goal of the payload, named Icarus, was to mechanically retain and deploy an Unmanned Aerial Vehicle (UAV) to collect a sample from a designated area. In order to perform this function, we designed a lead screw driven retention system which oriented and lifted the UAV out of the rocket body and an unfolding drone capable of collecting a 15ml soil sample. Compared with last year's design, Icarus was easier to manufacture thanks to better material choices and performed well in test missions.
Phoenix and Icarus flew one test flight from Lake Winnipesaukee in February. Unfortunately, a manufacturing defect in the motor the team bought caused the vehicle to underperform and not reach the expected apogee. Outside of that, the vehicle performed excellently and proved to require significantly less prep time at the launch site in order to fly. While the team was excited to return to Huntsville with our new and improved rocket and payload, the competition was cancelled due to the outbreak of the COVID-19 pandemic. Despite this, the team learned a lot, gained new sponsors, and became well prepared for future years.
Officer Board
---
Christian M. Schrader
Captain
Sophie Balkind
Rocket Lead
Thierry de Crespingy
Payload Lead
Veronika Karshina
Safety Officer
Kirsten Bowers
Treasurer
Troy Otter
Logistics Officer
Adrianne Curtis
Philanthropy Officer
Jeremiah Valero
Documentation Officer
Connor Walsh
Outreach Officer
Christopher Renfro
Social Media Officer